Women in Baseball Week 2022 #A Year to Hustle
July 24, 2022

-

July 30, 2022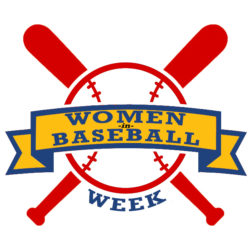 Women in Baseball Week 2022 is coming! Join on July 24-30, 2022 wherever you are, anytime during the week. How? That's up to you! If you are involved with baseball yourself, post on your favorite social media site using #WomeninBaseballWeek and #WIBW2022 in your posts. If you are part of a team, museum, library, historical society, or other group that have local women who have left their mark on baseball in your region, share their contributions with the world.
Women in Baseball Week is an annual, worldwide event recognizing the value, diversity, and cultural significance of women in baseball. Women play a vital role in all aspects of the sport north, south, east and west–-help us celebrate each one! Tournaments, teams, libraries, museums, and individuals will join the International Women's Baseball Center to recognize women's contributions to baseball around the globe.
This year's theme – A Year to Hustle – is dedicated to Shirley "Hustle" Burkovich, a champion, inspiration, and friend to the worldwide baseball community. A Year to Hustle reminds us all to stay active, to follow through on goals, create more opportunities, and make up for recent years of lost time. Let's work smart, play hard, and dedicate a Year to Hustle.
While recent years have seen more women on the field, behind the plate, and in the broadcast booth, this momentum can only be sustained with everyone's investment in working together, all around the world. By joining forces and supporting those with similar goals, we create more opportunities, expand youth participation, and encourage a culture that places women at the center of the world's best sport. This is the week to celebrate those efforts! Share your story and join those worldwide who step up to the sport for a stronger tomorrow.
How you can participate:
Promote your team and playing opportunities
Highlight your participation in baseball with a photo or story
Learn about the history of women in baseball
Spotlight your organization's materials that document women in baseball
Share your local history of women in baseball
Grab a t-shirt from our friends at Bonfire
Share your events and experiences online! Add #WomeninBaseballWeek and #AYeartoHustle to share your chapter to the story.
See more information @ https://womeninbaseballweek.org/