Launch Celebration for the IWBC Capital Campaign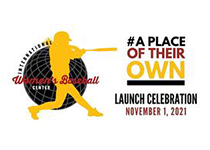 The International Women's Baseball Center (IWBC) will hold a major fundraising event to help raise money needed to build #APlaceofTheirOwn on Monday, November 1, 2021 at The Standard (214 E. State Street, Rockford IL 61104) from 6pm to 9pm with a VIP meet and greet beginning at 5pm.
The evening will include a 50/50 raffle and drawings for sports-themed collection items. A special menu has been created as well thanks to Taco Betty's. Tickets are $50 per person and can be purchased on Eventbrite, at Taco Betty's, or at the door. Special event tees will also be available for purchase or can be pre-paid on Eventbrite.
The evening will be highlighted by the attendance of well-known All American Girls Professional Baseball League (AAGPBL) players and IWBC ambassadors, Shirley Burkovich and Maybelle Blair, who will be available to those in attendance for autographs and photos.
Sponsor opportunities are available! Sponsorships may be secured under the ticket section of the Eventbrite event page or for additional sponsor questions, please contact [email protected].