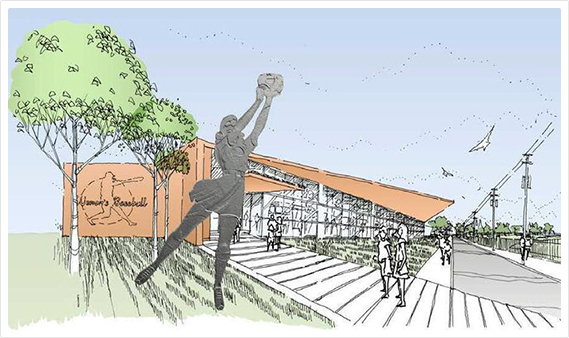 Let's get a place of our own!
At the IWBC, education is the cornerstone of our mission to protect, preserve, and promote all aspects of women's baseball, both on and off the field. We strive to inspire the next generation of players by helping them realize their dreams not only of participating in the sport, but also of passing on all they will learn and achieve for generations to come." — The IWBC Mission Statement
Phase 1: Outdoor Museum and Public Exhibit
An outdoor space devoted to honoring girls and women who have played critical roles in all aspects of the game of baseball. Pylons lining the area, themed to different groups of women, will provide a quick and pleasant walk for tourists and residents of Rockford alike.
A commitment to the Rockford community is the focus of the IWBC Activity Center. Through partnership with local high school and college baseball teams, we will support the expansion of the game through a space for play. Fields, batting cages, and a friendly atmosphere will allow families, teams, and individuals to enhance their skills through practice, lessons, and leagues.
Phase 3: International Women's Baseball Center
Education is at the heart of IWBC's mission and this Center is a step toward achieving that mission and providing a space to educate the public about women in baseball. The Center will feature exhibits featuring the history and future of women in baseball and include artifacts like an original bus used by the Rockford Peaches.